Cars for Sale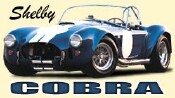 The CSX4000 Series 427 S/C Cobra from Shelby American improves on everything the 1965 model was famous for. 0-60 mph in less than 4 seconds, sub 12 second quarter mile times, and even better handling! This auto boasts the world's first computer designed chassis with four wheel coil-over independent suspension.
Click here to learn more.
---
No cars can be found that match your criteria.